In Downtown Orlando in a great setting of a parking garage.  Lots and I mean lots of really cool raffle prizes.  Big Time support from a Big Orlando Law Firm and Bank First.  I will be spinning tunes from 4 to 7, show setup at 3:30pm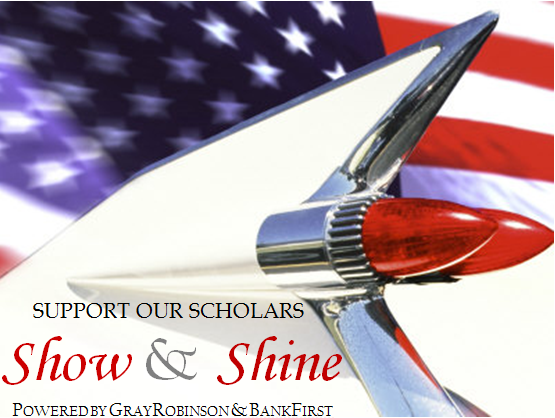 Show off your wheels for Support Our Scholars!
Join your fellow car enthusiasts to show off and shine with some of the coolest cars in town to raise money for Support Our Scholars. Enjoy great cuisine from local restaurants, raffle prizes, 50/50 drawing and beer/wine. Learn how Support Our Scholars is changing the future of our community.
Car registration is $25 for private owners/$100 for commercial owners and includes:
2 tickets for the show
Food samples from local restaurants
Dogfish Brewery samples
2 raffle tickets
Event tickets (without car registration) are $20 each.
100% of all registration fees, ticket sales, and raffle drawings will be donated to Support Our Scholars. Donations to Support Our Scholars in any amount are greatly appreciated. All entry fees and ticket sales are nonrefundable. If you are unable to attend the event, SOS appreciates your donation.
Support Our Scholars is a non-profit organization pursuant to Section 501 (c) (3) of the IRS Code (26 U.S.C. § 501 (c)). Your donation is tax deductable. Please consult your tax advisor.
REGISTRATION #: CH23681